StormDrain High Capacity Surface Water Drainage
Stormdrain channels are manufactured using Long Fibre Glass Reinforced Concrete (GRC), so these channels provide an excellent solution for storm water management and high capacity surface water drainage. That makes them ideal for use in surface water management projects for our climate.
The nature of the long fibre GRC material used to produce these stormdrain units gives them greater strength to weight ratios and enhanced resistance to damage.
High Capacity allows StormDrain to be laid level.
The high capacity of also aids the design of schemes that require attenuation.
Longer channel runs, reduced underground pipe work and excavation, reduce site costs.
Single unit gives a quick and simple installation.
Stainless Steel Slotted top gives a neat appearance with no lids or gratings to install and maintain.
The benefits of Glass-fibre Reinforced concrete include resistance to frost, chemical attack, and road salts.
Full range of accessories including access ports, silt pits and transition units.
Easily adapted to different load classes and surface finishes.
The width of the slot on StormDrain units is 12mm
Our sales team has been trained to advise you of any technical detailing required, guaranteeing you the optimum system at the most reasonable price achievable. Contact the team by phone on 057 93 53018, on email at sales@killeshal.com
---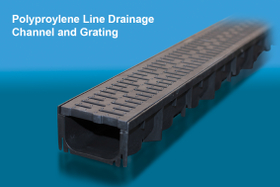 In addition to our StormDrain systems we also offer a low cost plastic channel drainage system for lighter use, pictured below (click here for Polypropylene Line Drainage details).
We also supply the complete range of ULMA Line Drainage Systems (click here for ULMA Line Drainage details). For more information please contact our sales team.
---
Need assistance?
Consult our engineers, we are always happy to answer any questions. Contact the team by phone on 057 93 53018, on email at sales@killeshal.com or fill out the contact form below.