Our range of chimney products has been gradually expanded since the early days of Killeshal, and now there are now very few problems for which we cannot provide a satisfactory solution, including standard and bespoke chimney flue gatherings.
Precast Concrete Chimney Flue Gatherings

Our precast concrete Chimney Flue Gatherings provide the perfect interface between the size and shape of any given fireplace and the smaller size and shape of the chimney flue above. We manufacture a range of Chimney Flue Gatherings to suit standard sizes, but as always we would be happy to discuss any custom requirements that you might have and our engineering team is ready to assist in creating a solution for your specific needs.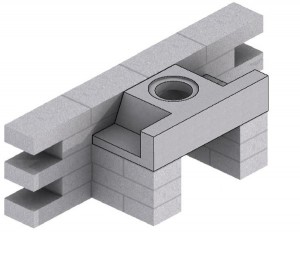 We manufacture our own range of:
Chimney Flue Gatherings
Soot Chambers
Chimney Caps – modified as required
We also supply the Anki® Chimney System
and the Schiedel® Chimney System
The image above shows a single unit chimney flue gathering unit mounted in position above the fireplace, but we also supply a four part system, again in precast concrete.
Whatever model you choose, whether a standard sized model from our stocks or a bespoke unit designed specifically by our engineering team to match your requirements, a precast concrete chimney flue gathering from Killeshal will give you the perfect transition between your fireplace and the chimney flue above.
---
If you would like to know more about our products and delivery services please contact us by phone on 05793 53018 or by email at sales@killeshal.com or you may use the contact form below.
---
contact