When controlling access to traffic and preventing unauthorised use of parking facilities it's important that the solution involves traffic barriers and bollards that are both practical, durable and elegant.
For Crash Barriers see here – Crash Barriers

Traffic Barriers and Bollards
Killeshal provide a range of traffic Barrier and Bollard solutions. We supply both fixed and flexible barriers and bollards with both manual and remote control automatic flexible models.
These barriers are easily installed, built to last and avail in numerous styles and finishes.
Car Space and Passage Barrier

A great example of the range of traffic barriers and bollards available from Killeshal, the Pyramid Top Car Space and Passage Barrier is a sturdy bollard with a great combination of features:
Engineered to last, weather resistant and collapsable
May be locked in either position with key provided.
Ensures driveway/space is reserved (left in upright position)
It will act as a deterrent to opportunist car thieves.
The Pyramid Top Barrier is also useful in restricting access to passageways (for example, between rows in a housing development) so that only pedestrians, cyclists and authorised service or delivery vehicles may gain access.
Killeshal offer a full line of contemporary stainless steel bollards (lockable bollards) to cover a range of functional requirements in an aesthetically pleasing manner.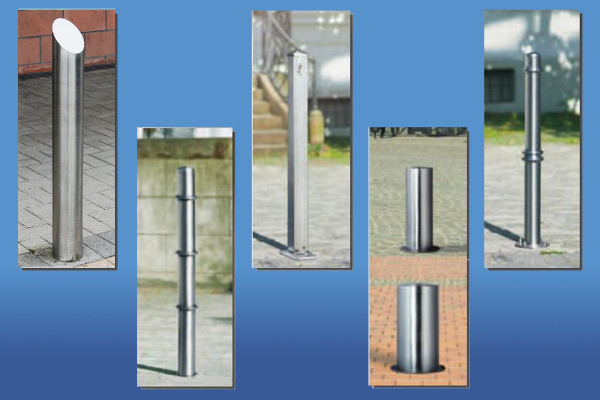 Killeshal have also been producing an array of precast concrete and exposed aggregate  bollards for many years and we have amassed a considerable range of designs.
We have also sourced many granite types to suit any streetscape. These come in many finishes so if your project requires a very personal stamp, talk to us. You will be pleasantly surprised at our level of versatility and our cost competitiveness.
Custom design requirements… are always welcome.
---
If you would like to know more about our products and delivery services please contact us by phone on 05793 53018 or by email at sales@killeshal.com or you may use the contact form below.
---