KPC Precast Concrete Window Sills
KPC has been manufacturing precast concrete window sills almost since its humble beginnings the late 1960's. Whether you require bay sills, corner sills or wide face sills, we can offer you a solution that will suit your needs. In fact, we have one of the largest ranges of window sills in the whole of Europe.
Key Features

Manufactured in accordance with BS 5642-1:1978+A1:2014.
Widest range of window sills in Europe
Options for Concrete, Natural Stone and Reconstituted Stone
Sills to suit Blockwork, Stone, Brick and Timber-frame builds
Matching String Course available for many units
Delivery throughout the Ireland in 48 hours on standard units
 KPC recommend you refer to Eurocode 6 for masonry structure design guidance.
Precast concrete and reconstituted stone window sills (or to use the alternative spelling, "cills"), form the lowest horizontal part of window openings and perform both structural and aesthetic functions.
Window sills provide the structural seating for window frames which prevents water ingress, and are sloped outward to direct rainwater water away from the window frame. Window sills come complete with water drip channels on their undersides, to prevent mortar erosion and staining of the outer leaf material.

Killeshal Precast offers one of the widest ranges of window sills in Europe, with profiles to suit brickwork, rendered block work, natural stone and stone cladding, as well as for both timber frame structural frames and traditional masonry construction.
KPC can deliver direct to site anywhere throughout Ireland, usually within 48 hours on standard units.
We have built up a product range that cannot be matched by any of our competitors.
We offer bespoke designs for one-off prestige projects or for any other reason that may arise.
We are one of the first precast concrete manufacturers in the the UK and Ireland to design a non-stooled window sill specifically for timber frame construction.
Standards: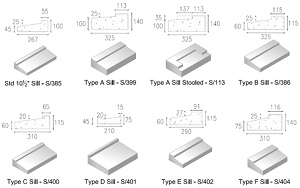 IS 89-1:1981 Window Sills
BS 5642-1:1978+A1:2014 Sills, Copings And Cappings – Specification for Precast Concrete Window Sills, Cast Stone, Clayware, Slate and Natural Stone
Click the image on the left to see a small sample indicative of our large range of profiles.
Specification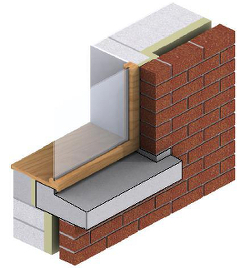 The most important piece of information to know when specifying window sills is the placement of the window frame relative to the outer leaf material. This, together with the desired overhang relative to the outer face, determines the width of the sill you require. The other critical dimension is the face depth of the sill required to achieve your desired aesthetic.
Stooled window sills are normally used to complement exposed brickwork on the outer leaf, whereas non-stooled sills are usually the preferred choice for every other outer leaf material.
When specifying the length of the window sill, we normally allow for at least 75mm seating on each side of the opening, so use (Opening Width + 150mm) as a rule of thumb.
Many of our window sill profiles are compatible with our precast concrete and cast stone string course profiles. Please ask our experienced and helpful technical professionals for specification guidance.
One of our most requested sills is our "Type H" (Click thumbnail to view)
---
You may also be interested in these