Reconstituted stone is a beautiful material reflecting the high standards of durability associated with natural stone. Reconstituted granite and sandstone make a durable and cost effective alternative to using natural stone in construction and landscaping work. Reconstituted stone window sills, heads, window and door surrounds, wall cladding, pier caps, wall coping, string course, quoins, steps, planters and seats offer the same mechanical properties of precast concrete.


The amazing variety of aesthetic qualities created by the textures and subtle colourings give Reconstituted Stone considerable advantages over other materials. This product offers offers the architect or landscape architect a wide range of colours and tones from which to choose in both new build and conservation work. The acid etching process gives a sparkling finish which catches the light beautifully. Surface treatments such as polishing and bush-hammering further help to complement modern, classical and rustic aesthetics.
Key Features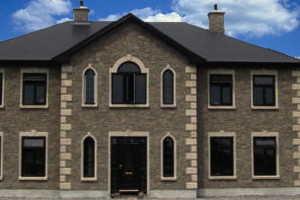 The beauty of stone in the profile you need
Incredible range of options – cast to virtually any shape
Suitable for a wide variety of applications – arches, sills kerbs and more
Distinctive Architectural styling
Very Durable material – tough against the elements
 KPC recommends you refer to Eurocode 6 for official technical design guidance.
Wide Range of Reconstituted Stone Products
Killeshal can supply a range of products manufactured in reconstituted stone:
Reconstituted Stone Cills – Window Cills and Surrounds
Reconstituted Stone Copings – Wall Caps and Pier Caps
Door Surrounds
Wall Cladding
Piers and Column
Quoins (corner-stones)
Chimney Caps
Plinths
Steps and more.

Because reconstituted stone is cast in moulds it can satisfy an incredible range of custom size and shape requirements. Essentially, whatever you can get in concrete, you could get in reconstituted stone. Talk to our Technical Sales team today about your custom requirements and about how we can offer an extended range of specialist design through our sister company, In Granite Recon Ltd. We will happily advise on design and specification.
---
If you would like to know more about our products and delivery services please contact us by phone on 05793 53018 or by email at sales@killeshal.com or you may use the contact form below.