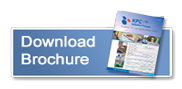 Whether you call them Service Chambers, Junction Boxes or even Service Boxes, here is the solution to a common site problem. Simply pour a base, install the box and when the required cables or services have been installed, place the lid on the box and backfill around it, instant Service Chamber.
Note: Killeshal offer Junction Boxes that are designed and manufactured to comply with Irish Water specifications. Contact our Technical Sales team for more information.
STANDARDS NOTICE:
Killeshal Precast Services Boxes are manufactured to comply with EN1917:2002 / AC:2008 Concrete manholes and inspection chambers un-reinforced, steel fibre and reinforced.
Junction Boxes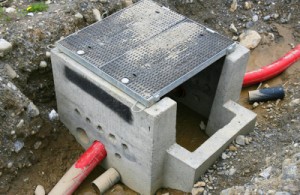 Killeshal provide a number of junction boxes or cable boxes with a wide range of options for various overall sizes and for various combinations of ports to suit different services.
Feel free to view and download the technical brochure from the link below. If you cannot find the precise configuration, just call or email and our experienced engineering staff will assist you in creating the correct custom configuration to suit your requirements.
We can supply most sizes ex-stock with rapid delivery of our service chambers throughout the UK and the Republic of Ireland usually within 48 hours and as usual we are quite happy to discuss custom requirements.
Our design engineers and production crews can cope with just about anything with regard to custom requirements- the photo below shows four custom units ready for delivery, destined for use with mechanical and electrical installations.

---
Popular Junction Boxes
click any image of junction boxes below to access PDF Drawing
Junction Box JB75 – AV Chamber

Related Products
---
Junction Box JB76 – SV Chamber

Related Products
---
Junction Box JB77 – FH Chamber

Related Products
---
Junction Box JB78 – Boundary Box

Related Products
---
Some key features of our Junction Boxes include: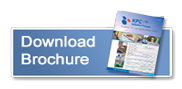 Pre-formed Cable Entry Points
Reinforced Concrete Walls
Integrated Reinforced Bases
Incorporated Drainage Sumps
Ironmongery fitted (on request)
JB5 Minipillar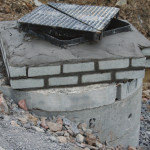 To extend the installation options of KPC's Junction Boxes / Service Chambers and to allow for bridging the gap between the top of the box and the finished surface level, we offer a Cat 30/50 engineering brick.
For more details, see our Engineering Brick page.
Engineering Brick
---
If you would like to know more about our products and delivery services please contact us by phone on 05793 53018 or by email at sales@killeshal.com or you may use the contact form below.
---