Killeshal Precast Concrete Wall Caps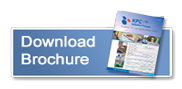 Precast concrete wall caps and reconstituted stone wall caps provide cost effective finishing touches to any type of wall. They protect mortar from water-staining and frost damage, by deflecting rain water away from the face of the wall. Proper installation of coping stones also helps to prevent moisture ingress in cavity walls.
Since our inception in 1969, we have maintained a healthy attitude to producing special designs and have continuously added to our range. This has meant that over 45+ years, we have managed to assemble the widest range of Precast Concrete Wall Caps on the market today. We can deliver direct to site, anywhere in the 32 counties, and small quantities are not a problem.


Wall Capping is a core product for us, and our highly experienced technical professionals are widely regarded as specialists in this area of construction. If you cannot find exactly what you need in our precast concrete wall caps ranges, please ask us about manufacturing a special.
Specification
KPC normally recommends that wall caps sit proud of both faces of the wall by up to 75mm, depending on the wall's function, thickness and what materials are being used. For this reason the width of the wall cap is the most important dimension.
Precast Concrete Wall Caps can finish flush with the surface of the wall in certain circumstances. Caps of this type generally do not feature a water drip, whereas most others do. When ordering, care should be taken to confirm the specification of this critical design element with our technical team.
Our wall caps are available in plain concrete. Through our sister company we can also offer acid-etched reconstituted stone in a range of colours and surface treatments. Design advice and material samples are available on request.
 KPC recommends that you refer to Eurocode 6 for technical design guidance.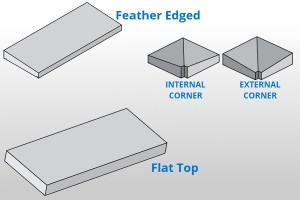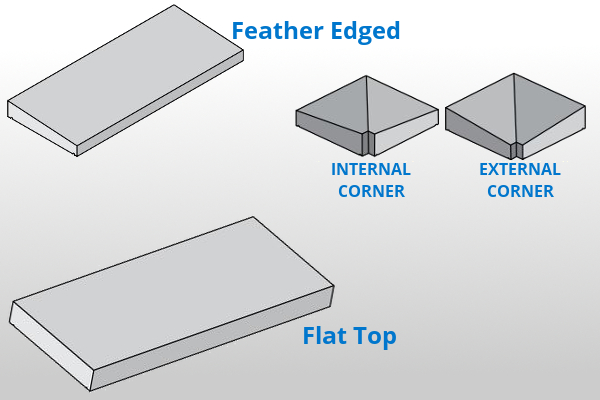 FEATHER EDGE WALL COPING sheds surface water in one direction only. Applications include parapet walls where water needs to be directed towards a balcony or flat roof for drainage purposes. This style offers the designer the greatest number of dimensional options, and the greatest number of corner units, both internal and external.
SADDLE BACK WALL COPING sheds surface water in two directions and is commonly used on boundary walls, in conjunction with pier caps. Internal and external corner units are less commonly available with this type of coping, so it is generally used in straight runs.


Download sizing chart for Once and Twice Weathered Precast Concrete Wall Coping here.
---
FLAT TOP WALL COPING is popular in modern construction because the style complements a minimalist aesthetic. Flat precast concrete wall caps are versatile, because internal and external corner units are the same. They are ideal for use where railings are required to be surface fixed and their function can double as a bench when they are used to cap low-level walls.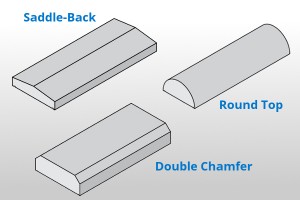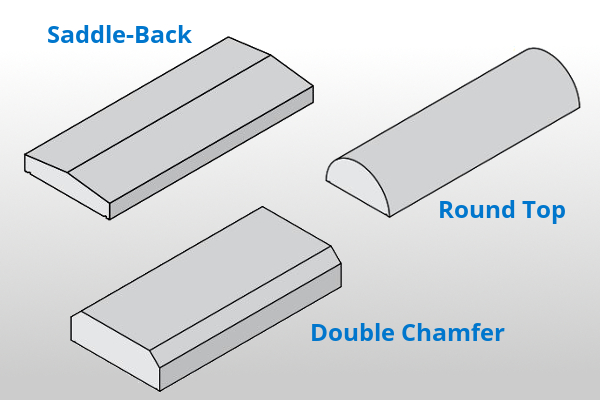 CHAMFERED WALL COPING can be used in a wide range of standard and off standard of design applications, but is commonly used to match deep capping stones in heritage areas. Their flat tops provide an ideal surface for fixing steel railings.
ROUND TOP and other unusual designs are used in a myriad of design applications. Killeshal carries a limited standard range of these round topped precast concrete wall caps and customers are advised to contact our technical department for drawings and advice.


Download sizing chart for Chamfered, Round and Tabling Precast Concrete Wall Coping here.
---
Vandal-proof Wall Caps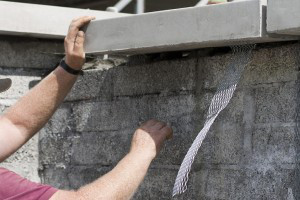 At KPC-UK we manufacture vandal proof wall coping. These particular vandal proof wall caps are designed to suit walls with a rendered finish in particular.
The vandal proof coping features an integrated expanded metal mesh which is laid flat against the wall face before rendering and the render coat is applied over the mesh. This will give a surprisingly strong bond between the wall cap and wall and will make it very difficult to unseat the wall caps.
We have seen a positive response to these wall caps from our customers that previously experienced vandals pushing the coping off the wall.
---
You may also be interested in these
Need assistance?
If you would like to know more about our products and delivery services please contact us by phone on 05793 53018 or by email at sales@killeshal.com or you may use the contact form below.
---