Killeshal manufacture a range of standard and custom thresholds to suit various door widths and, with a growing requirement to ensure that buildings are accessible to those with disabilities, we offer accessibility thresholds systems.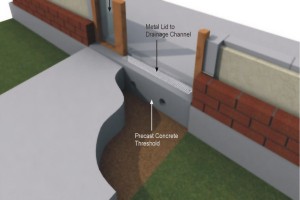 This patented solution addresses accessibility requirements, comprising a concrete unit with a drainage channel, heel-safe galvanised steel grating to impede water crossing the threshold.
The accessibility thresholds provide superior access for the mobility impaired without compromising on aesthetics. It's fully functional in providing a drainage channel for water that might otherwise cross the threshold and the channel is covered with a supplied heel-safe perforated galvanised steel plate.
Accessibility Thresholds KEY FEATURES
Provides level access for the mobility impaired
Durable materials
– concrete channel, metal grating
Drainage channel directs water away from threshold
Creates safer access for wheelchair users
Larger entrance widths can be catered for
Units available ex-stock
Straightforward installation

We also developed solutions for situations where particular door types cannot be used.
Our Technical Team will be more than happy to advise you on the optimum solution, based on your requirements.
---
If you would like to know more about our products and delivery services please contact us by phone on 05793 53018 or by email at sales@killeshal.com or you may use the contact form below.
---