GFRP Wall Ties

– click here for GFRP Sill Supports
Killeshal's GFRP Wall Ties from Killeshal are thermally insulating composite wall ties. These units are wall ties for the environmentally conscious 21st century. They are made from a hi-tech composite material, Glass Fibre Reinforced Polymer, which combines a high degree of strength and durability with excellent thermal insulating properties.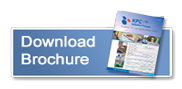 Our GFRP Wall Ties are specifically designed for purpose. They feature a coarse silica finish which not only ensures a good bond with the mortar joint but also helps prevent moisture crossing the cavity. The ties are available for use in cavity widths ranging from 50mm to 200mm. The ties are nominally 4.8mm thick including the silica coating (3mm without), 16mm wide, and they have a chevron-shaped profile.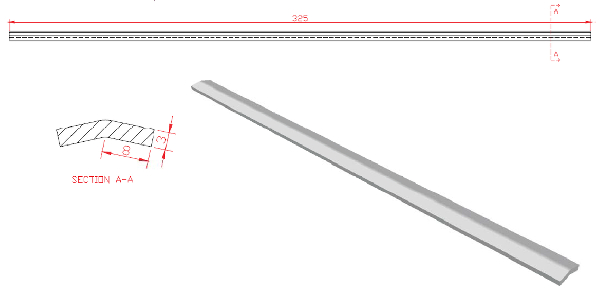 The ties should be installed with the point of the chevron profile pointed upwards and this will further enhance the ties' ability to prevent moisture crossing the cavity.
The effectiveness of the installed ties with regard to fire is assessed as being equivalent to that of typical steel ties.. Guidance on the fire resistance of cavity walls is given in BS 5628-3: 2001 and Eurocode 6.
---
GFRP Cross-Cavity Window Sill Supports
Killeshal's GFRP Window Sill Supports have been tested for use in supporting window sills across a wall cavity and carry a manufacturer's declared load capacity from 75Kg (735N) for the 250mm length to 65Kg (613N) for the 325mm length.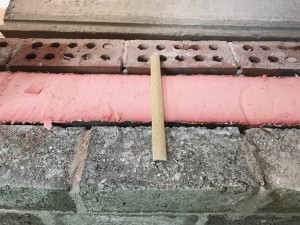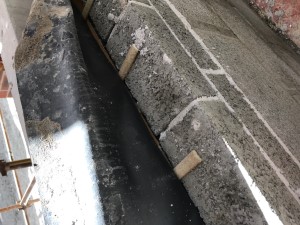 Using the GFRP ties and assuming a maximum cavity width of 150mm for the 250mm ties (embedment of 50mm each side of the cavity) and 200mm for the 325mm ties (embed of 62.5mm), the wall ties were tested to the point of failure.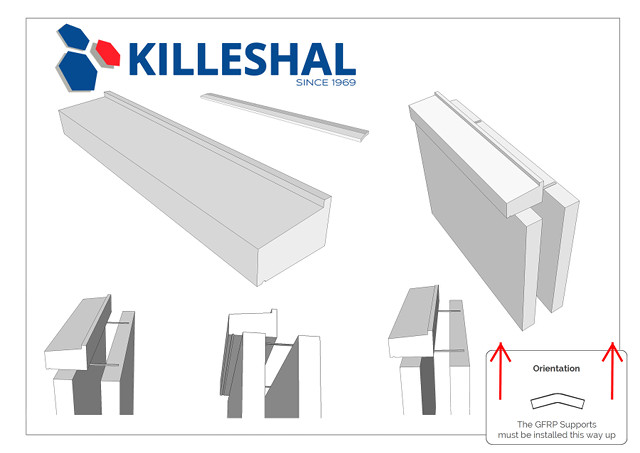 These window sill supports are symmetrical at either end and should be installed substantially horizontally, at right angles to the wall, allowing for a slight fall from inner leaf to outer leaf.
Download GFRP Window Sill Supports product sheet here for specification details.
Product Sheet
---
Need assistance?
Consult our engineers, we are always happy to answer any questions.
Contact the team by phone on 05793 53018, on email at sales@killeshal.com or fill out the contact form below.
---