Killeshal Padstones
In addition to our wide range of lintels KPC also offer a wide range of Pad-stones to match. A KPC padstone is stronger than a masonry block, in fact, KPC's Padstones are manufactured with 40N/Sq mm concrete.
Padstones serve to distribute weight more efficiently through the blockwork, reducing the potential for cracks and structural failure due to the transfer of crushing loads through lintels and RSJs from above. KPC supplies a broad range of padstones (as listed below) to suit most purposes. These standard sizes are available ex-stock and of course, we are always happy to discuss custom requirements. Our technical team will provide the necessary advice when it comes to padstone design and specification.
Key Features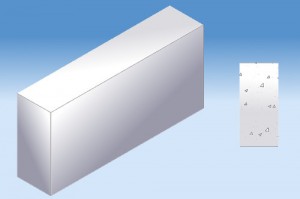 Simple to use – bed in place just like blocks
Readily available – no need to cast in-situ
Reduced labour costs through no on-site casting
Tough 40N/Sq mm concrete material
Reduces the risk of lintel load transfers crushing blockwork
Various standard sizes available ex-stock
Custom requirements catered for
Padstones can be made to any size and specification but Our standard units (ex-stock) for both regular and corner units are available in the following sizes:


| | | | |
| --- | --- | --- | --- |
| Length L1 | Length L2 | Height H | Width W |
| 450mm |  – | 215mm | 100mm |
| 450mm |  – | 215mm | 215mm |
| 665mm |  – | 215mm | 100mm |
| 665mm |  – | 215mm | 215mm |
| 900mm |  – | 215mm | 100mm |
| 900mm |  – | 215mm | 215mm |
| 440mm |  440mm | 215mm | 100mm |
| 440mm |  440mm | 215mm | 215mm |
KPC can deliver the optimum product at the right time and at the most reasonable price. Just contact us with your requirements and we'll assist you with getting the appropriately dimensioned pad-stones as per you requirements.
---
If you would like to know more about our products and delivery services please contact us by phone on 05793 53018 or by email at sales@killeshal.com or you may use the contact form below.
---