Killeshal Precast Concrete Pier Caps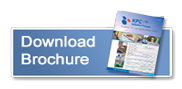 Killeshal has extensive experience in manufacturing Precast Concrete Pier Caps and we have built up an extensive range of standard pier caps which are both functional and aesthetically pleasing.
Precast Concrete Pier Caps and Reconstituted Granite/Sandstone Pier Caps augment and protect piers and gate posts. They defend mortar and masonry from erosion and frost damage by deflecting rain water from running down the face of the pier. They will ideally complement the architectural style of the development by tying in with the design of the wall caps and window sills.
Wide Range of Styles and Sizes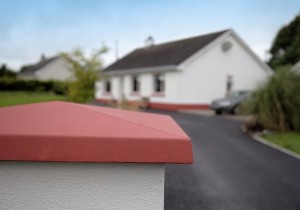 Standard pier caps – To view our full range download our Pier Coping Brochure
Custom pier caps – We can manufacture to your specifications
Contemporary designs – We offer a variety of finishes, shapes, colours and sizes
Cost effective protection – Water drip grooves control rain water and prevent staining of the pillar
Applications – Use in residential areas or commercial buildings for an outstanding look.
Perfect for painting – see photo with "terracotta-style" cap painted in foxfire exterior emulsion
 KPC's technical team will assist you in custom design and specification
PIER CAPS SPECIFICATION & ORDERING
Concrete Pier caps will usually project up to 75mm from each face of the pier, depending on whether the pier is rendered or not. Pier caps normally shed water in four directions and come complete with water drip grooves in order to protect the pier from the elements. Advice should be sought from our technical team at the time of ordering, so as to ensure these details are correct.
Standard Apex Pier Caps feature a front face of between 50mm and 150mm.
Rectangular pier caps feature a ridge, similar to a saddle back wall cap, with a sloped finish at each end. This type of pillar cap is often used on boundary walls which are visible to the public.
Circular, Regency and Classical style pier caps can also be provided. Our experienced and professional technical team is on hand to offer advice and guidance, where necessary.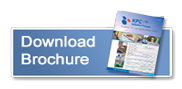 ---
To view our full range of standard Concrete Pier Caps, download our Pier Copping Brochure. Whether you want to achieve a modern feeling or maintain a traditional look, you can find it at Killeshal.
---
Need assistance?
Consult our engineers, we are always happy to answer any questions. Contact the team at sales@killeshal.com or fill out the contact form below.
---