Heat Pump Base – Precast Concrete
Killeshal's precast concrete Heat Pump Base units have been carefully designed and manufactured to address an issue faced by our customers in the construction industry. The drive towards more energy efficient and eco-friendly homes and offices had pushed a number of our customers to look for a solution to a costly, time-consuming problem. They needed an alternative to spending time and resources on creating formwork for in-situ casting of bases for heat pumps.
Our precast concrete Heat Pump Base units are available in different designs to suit popular heat pump units, accommodating inlet and outlet ports as well as providing an inclined surface leading to a central drain port.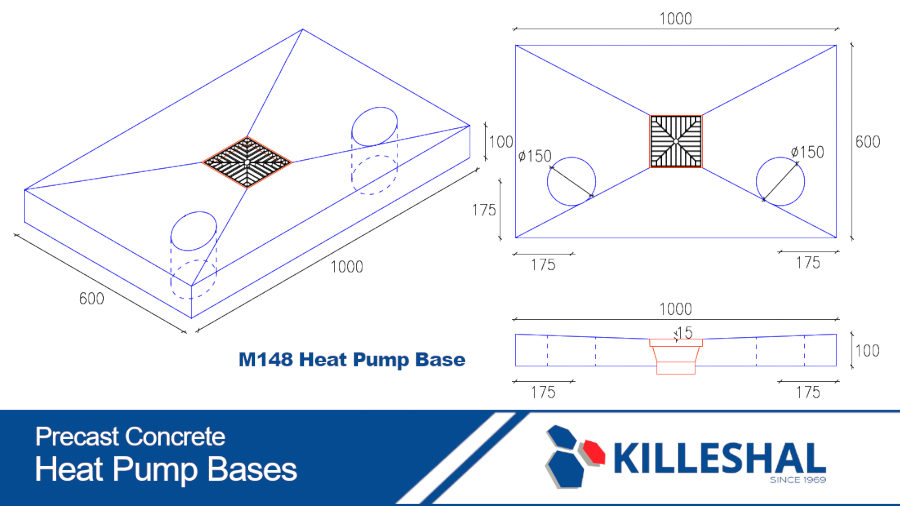 Installation of these precast concrete base units is quick and easy and quickly provides a solid footing without the hassle of creating formwork and pouring concrete for a cast-in-situ base. This allows the heat pump installers to quickly move through the development without having to wait for freshly cast bases to cure.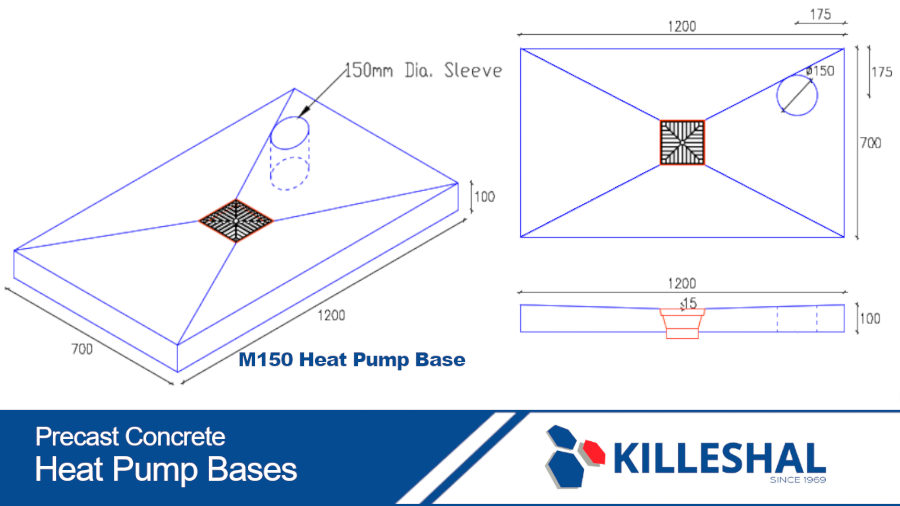 The use of heat pumps is seen as an important tool in tackling climate change (see more about Heat Pumps here) and we expect to see a growing demand for the application of heat pump technology in both new build projects and retro-fit projects. In both cases the use of our  precast concrete bases will make installing these heating units quicker and easier.
If you are considering options for minimising cold-bridging on your project take a look at our GFRP Wall Ties and Window Sill Supports here.
GFRP Wall Ties – Sill Supports
---
Killeshal Engineering Support
Our Heat Pump Base units are readily available for leading heating unit models and we are happy to discuss requirements for any other units. Talk to us about your exact requirements and let our engineering team help to specify a heat pump base unit to suit your project.
---
Need assistance?
Consult our engineers, we are always happy to answer any questions.
Contact the team by phone on 05793 53018, on email at sales@killeshal.com or fill out the contact form below.
---