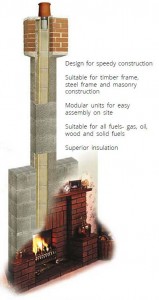 Schiedel Chimney System
Modular 3-layer insulated chimney system
Schiedel is very well established as Europe's largest supplier of chimney systems and is part of the Lafarge Roofing group.
In keeping with the standards expected from such a prestigious pedigree, the group is certified to EN ISO 9001, so you know you can depend on Schiedel products to give you outstanding service and durability.
The Schiedel Swift is ideal for Open Fires, as well as Stoves, Cookers and even for Central Heating Boilers.
Schiedel Chimney Systems Brochures:
Schiedel Garden Chimneys for Comfort and Style in the Garden

Schiedel Garden Fireplaces Brochure:  Schiedel Garden Chimney
---
Chimney Systems by Anki And Schiedel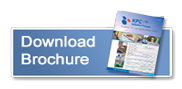 Anki and Schiedel Chimney Systems from KPC are excellent solutions to the demands of today's construction industry. They allow fast construction of high quality and highly energy efficient chimney systems with easily installed modular units from two of Europe's top brands.
Isokern from Anki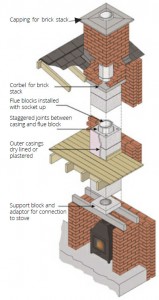 with the natural insulating properties of pumice.
Isokern products can be used for new chimneys and for refurbishing existing chimneys.
The Isokern chimney systems provide a lightweight, easily installed and versatile chimney which can be used internally or externally.
They are suitable for use with burning appliances in new and refurbished projects.
They are ideal for Masonry, Timber Frame and Steel Frame construction. Isokern chimneys have been installed in Europe for over 60 years.
Click on the images to view enlarged versions.
---
Need assistance?
Consult our engineers, we are always happy to answer any questions. Contact the team by phone on 05793 53018, or by email at sales@killeshal.com or fill out the contact form below.
---